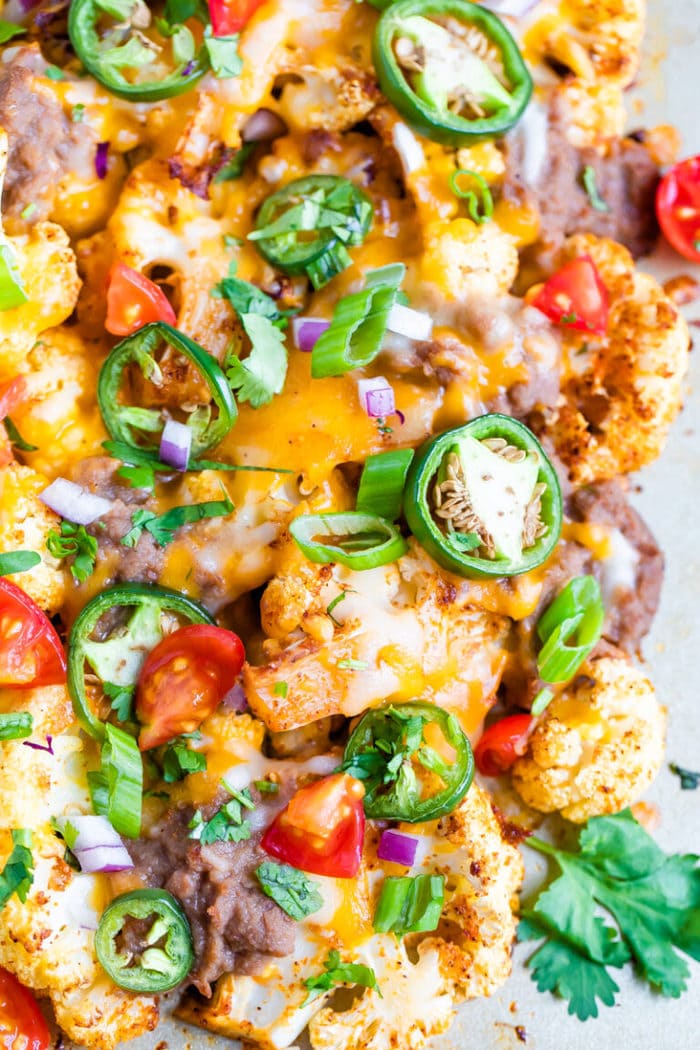 Cheesy Cauliflower Nachos
Oh my goodness! I love the still crunchy texture of the cauliflower under all those delicious toppings! Keep it vegetarian with Epicure's Easy Peasy Vegan Taco filling, Re-fried or canned black beans, or go ahead and top it with Chicken, ground beef or shrimp. Don't have Epicure's Nacho Cheese seasoning blend? Here's what you'll need : 1/2 teaspoon each of the following seasonings: Garlic Powder, Onion Powder, Ground Cumin, Smoked Paprika, Chili Powder and Salt.
INGREDIENTS
1

Tablespoon

olive or avocado oil

1 Tablespoon Epicure Nacho Cheese Dip mix

5

cups

cauliflower florets

cut into ½-inch slices

1/3

cup

re-fried beans

3/4

cup

shredded Mexican cheddar cheese

1

jalapeno

sliced


1/2

cup

chopped grape/cherry tomatoes

1/4

cup

diced red onion

1/4

cup

chopped fresh cilantro

1

avocado

sliced or chopped (optional)

Preheat oven to 425°F. Line a sheet pan with Epicure's Sheet Pan liner or spray with olive or avocado oil.

In a large bowl, combine oil with Nacho Cheese Dip mix. Add sliced cauliflower and gently toss to coat. Place seasoned cauliflower on baking sheet, spacing out the pieces so that they roast instead of steam. Bake 20 minutes, until cauliflower is tender and starting to brown.

Remove the pan from the oven; push cauliflower together in the center of the pan. Top cauliflower with refried beans, sprinkle with cheese and add jalapeño slices on top. Return to the oven and bake until the beans are heated through and the cheese has melted, about 6-7 minutes.

Top cauliflower with chopped tomato, red onion and cilantro. Add avocado (if using) and serve directly from the sheet pan. You can also transfer to a platter for serving or portion into bowls.